I've had the best time trying a bunch of brand new beauty and skincare products these past few months and I think I've managed to narrow it down to my current must-haves and favorites. Before I get to the nitty gritty just know at the end of this post is a special giveaway so make sure to read it all the way to the end! Funny enough, lately the most asked question I get on Instagram stories when I'm just chatting along happen to be the following:
Where did you your necklaces?
What kind of foundation do you wear?
What is your must-have skincare brand?
Not to long ago I was introduced to Asha Patel Designs. She was one of the hosts for the #SINKINTOSAVASANA Self Care challenge I co-hosted on Instagram and I instantly feel madly in love with her jewelry. It was everything I was searching for when I was looking for "spiritual" jewelry pieces. It had that modern day soul seeker type of feel to it which embodied everything that I'm about. The Nazar gemstone necklace has been one of my favorites and it rarely leaves my neck. You can get 15% OFF by using the coupon code "GOFITJO". You're so welcome.
Top 2017 Winter Beauty Must Haves
Onto the next question about foundation...Ok I get this question about once a week and before I go on to talking about foundations I wanna address something about skincare in general. Make up has the most beautiful application when the skin is prepped properly so make sure you're washing your face well, tone it, moisturize, and prime before you lay on any foundation. It's really key to understand that what you put on your face can only do its job when you've done yours.
I rarely use the same foundation for the entire week mostly because it all depends on what sort of application I'm going for. If I want full coverage and SPF coverage I'm going to go for It Cosmetics CC cream because its kinda the lazy woman's make up. I love it because I don't have to use any concealer to even out my skin tone and it just gives me this flawless matte coverage. When I'm wanting something with lighter coverage I'm reaching for my Stowaway cosmetics BB cream. Some days I crave a liquid application which is where Bare Minerals BarePro Performance Wear, it's breathable, full coverage, mineral based and has an SPF20 coverage. The liquid foundation tends to bring me back to my previous career as a hairstylist/make up artist which is nostalgic to me. I just discovered and tried Glossier's Skin Tint for the first time today so I'll keep you posted on that as well. So far I'm I'm head over heels for Cloud Paint, a cream based cheek tint. I'm rocking the color puff in the first photo of this blog post.
PRO TIP: I always prep my skin with some sort of primer and the one I've been using lately is the Onomie Priming Serum because of the illumination and glow it gives my skin through my make up.
It's winter time here for me and the cold weather brings on the chapped lips. I'm usually a lip sticks kind of girl with my strong love for the lippies by Colourpop Cosmetics, my favorite shade is Brink. But lately because of the weather and the obscene amount of tea I've been drinking tinted lip conditioners have been my jam. I'm doing some work with Chapstick later on this month and they sent me over the brand new Chapstick Total Hydration Moisture + Tint to try before we start and I was shockingly surprised at the pigment load in this little babies. Plus, it had all the benefits of good old chapstick. My favorite colors have been Coral Blush and House Red. The other option is good old Khiel's ButterStick. Khiel's is a tride and true skincare brand in our household. It's the first skin care line I used back when I was 20 years old and one that the hubs and my teenager daughter use daily.
If you're looking for a non-tinted gloss, Glossier's Bot Dot Com has been a staple of mine for some time now, it's a great salve for your skin, lips, cuts, you name it it's there for ya.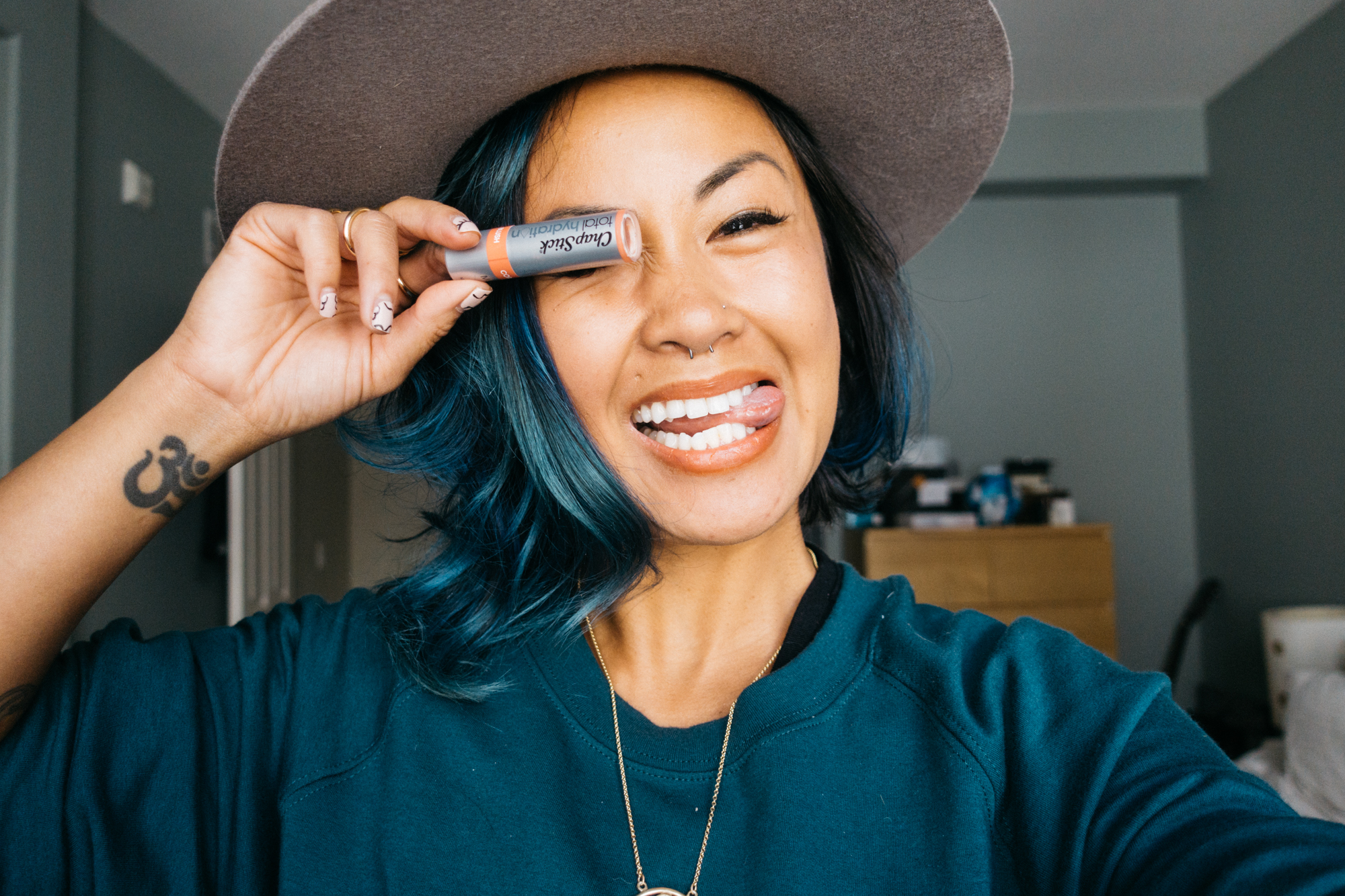 2017 WINTER BEAUTY MUST HAVES
SHOP MY FAVORITE FOUNDATIONS

Someone asked me on IG stories what my ultimate favorite skincare brand was and I couldn't answer that because honestly, I have so many different favorites from all the ones I've used for all different reasons. But lately I have been super obsessed with facial oils during the day, during the night...over my make up sometimes.
Biossance Squalane w/vitamin C Rose Oil is my go-to facial oil and Biossance is probably one of my all-time favorite skincare brands along with Sunday Riley, who's slowly creeping up to the top. Two other luxury skincare brands that always on my bathroom counter are Mūn Skincare and Immunocologie. These two lines are simple, minimal, and are packed with high quality ingredients. When I'm on the hunt for skin care regimen I'm all about minimal: cleanser, toner, moisturizer, and facial oil. That's my baseline and from there I can add other items to custom my skin care needs depending on my environment, weather, etc. During the winter I'm relying heavily on oils both during the day and night time to help quench my skin's thirst.
SHOP MY FAVORITE SKINCARE

Another beauty area that I'm always staying on top of is my hair! These bleached blue locks need gentle love because it's died, fried, and petrified with all the chemical treatments, heat styling, and my recent vacation to Kauai. I rely on heavily on heavy-duty conditioning masks, moisturizing treatments, and protein strengtheners to keep my hair on my head. One brand that has recently surprised me with its performance is Form Beauty. They recently launched their minis which are a staple in my travel bag and gym bag. I typically judge a haircare line by its shampoo and conditioner. I carry the same philosophy with haircare that I do in skincare, its all about how you prep the fabric you're working with and in the case of your hairstyle, its the fibers of hair on your head. Their Revive conditioner is surprisingly moisturizing and strengthening which my hair needs.
PRO TIP: If your hair is color treated and you're using strengthening based shampoo and conditioner, balance it out with a moisturizing conditioner once a week. Too much protein treatment can make your brittle and can cause breakage so balance out your hair care with moisturizing treatments.
SHOP MY HAIRCARE FAVORITES

My ultimate and final obsession lately has been all things Le Labo Fragrances! If you come to my house you'll notice this slight musky sweetness in the air, Santal 26. My favorite home fragrance that you'll also find me spraying on my clothing, into my gym bag, and in my luggage. It's a scent that evokes a sense of calm freshness with a slight earthiness that makes you feel grounded. At least it does that for me. I won't lie, its pretty pricey, but they create each bottle the moment you order or purchase it ensuring its freshness the moment you start to use it. Discovery sets are a perfect way to introduce yourself to their fragrances. It's normally offered in a set of 5 of their most common staple scents like my personal favorite Santal 33.
SoulCycle recently collaborated with Le Labo and now all their toiletries in their studios will be filled with Bergamote 22, which means I am forever showering at SoulCycle.
SHOP ALL MY LE LABO OBSESSIONS

OKAY FRIENDS TIME FOR THIS GIVEAWAY!
ONE Mon Amie Watch to ONE lucky winner.
Here are rules:
Follow me on Instagram (@GOFITJO)

Like 5 of my posts.

BONUS entries if you've signed up for my mailing list.

Winner announced on 12/12 12PM PST.
*The giveaway is not in any way associated with Instagram or Mon Amie and will be valid from 12/10 - 12/12, 2017. Instagram profile must be public to be eligible. Winners will be notified via message within 48 hours.*